Volkswagen Beetle Parts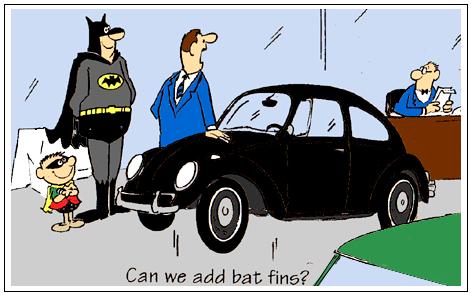 Classic Volkswagen Beetle Restoration Parts
Our History
We have been manufacturing and selling classic Volkswagen parts ever since 1975. We are approaching forty years of service to the Volkswagen restorer! We are located on the property that was once a textile fulling mill in the eighteenth century, became an ice house, and now houses our shops and warehouse of classic Volkswagen Beetle, Karmann Ghia, Bus, Thing, VW Rabbit and Cabriolet parts. We began in 1975 manufacturing the wood top bows for Volkswagen convertibles and we are the original Volkswagen wood bow maker, having built thousands of wood top bows for Beetles and Karmann Ghias. We keep our original wood shop going strong and our convertible wood bows are in thousands of convertible top frames all over the world. Based on our commitment to service, the wood bow business evolved from customer requests into convertible tops, upholstery, seals and other Volkswagen (VW) restoration parts. An example: Shown is a picture of a product we designed and still manufacture which has enabled countless convertible top restorations: the unitized rear window framework with a real wood embedded tacking form. Volkswagen Beetle convertible owners are urged to read our individual pages for helpful information.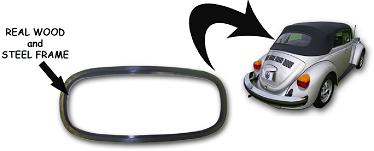 Our Service
We work closely with Volkswagen owners and VW restoration shops. Our staff is experienced and strives to be personally helpful. We are an old fashioned business dealing with old fashioned Volkswagen people, old and young! The restoration of a classic Volkswagen Beetle or Karmann Ghia is usually an act of love and we recognize it as such. We try to keep our transactions on a personal level, even when processed from our Volkswagen parts web page.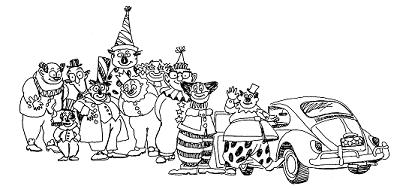 Secure Ordering
Our original Volkswagen parts paper catalogs evolved into the web page for VW parts that you now see. All the proper security arrangements have been installed and some added protections for our Volkswagen sites. For example, all personal information, including credit card data, is removed from the site right after the parts order is entered into our order data in the office.
Convertible Top Specialists
We have specialized in Volkswagen Beetle convertible tops, and in Beetle convertible top parts, for many years. We manufacture the Volkswagen Beetle top hold down cables for the industry. And we manufacture the Volkswagen Beetle convertible top wood bows (real wood, not plastic) for the classic air cooled Beetle convertibles. Our factory makes the finest classic Volkswagen Beetle replacement tops in the industry. Top shops have used our Volkswagen Beetle convertible tops since we started in business nearly forty years ago. Please use our support email for queries about any Beetle convertible top question or top parts.
Upholstery Specialists
We carry the TMI line of Volkswagen Beetle seat covers, carpets, door panels, headliners, consoles and other classic Volkswagen Beetle interior items. In addition we list instruction manuals for installing Volkswagen Beetle interior items. From arm rests to full interiors, we offer a complete line of classic Volkswagen Beetle interior parts. You will see all interior items illustrated under the appropriate site catalog page.
Rubber Seal Specialists
There are many companies that manufacture replacement rubber seals and weatherstrips for classic Volkswagen Beetles. While most aftermarket Volkswagen Beetle seals will fit reasonably well, German and American made Volkswagen Beetle rubber seals will last longest and offer the best initial fit. Wherever we offer budget Volkswagen Beetle rubber seals we specifically indicate their origin and describe them at their site page.
How To Install Beetle Parts
Most classic Volkswagen Beetle owners are performing some or all of their part installation. We have a literature section that lists many books, and booklets on general Volkswagen Beetle part installation or restoration and also on specific Volkswagen Beetle part installation. Please consult the 'books and literature' page on our site, or look for the 'how to' booklet on the page for the corresponding part. For example, you will find a nice comprehensive set of instructions on removing, restoring and reinstalling your classic Volkswagen Beetle seats and seat covers.
Body Parts
Volkswagen Beetle bumpers, floor pans, and chassis parts are frequently needed by Volkswagen Beetle restorers. Their quality varies widely ranging from terrible to 'best.' For example, if you are replacing your Volkswagen Beetle bumpers you should be aware that most bumpers are 'third world' in origin and their chroming is substandard. Floor pans vary in quality both in accuracy of the stamping and in the gauge of steel used. Our bumper, floor pan and other Beetle sheet metal part pages will advise you honestly and thoroughly on the quality you can expect.
Preserve Your Volkswagen Beetle
Owning and operating a classic air cooled VW Beetle is a connection with a wonderful tradition that goes back to the post World War II period. The owner will likely be able to purchase any needed parts for many many many years and to be able to install them himself or herself. We have been engaged in service and in parts sales for classic air cooled Volkswagen Beetles ever since we started in 1975. Our company is in its second generation of family ownership and we pride ourselves on our association with thousands of Volkswagen Beetle restorers all these years. We hope that some of you will be dealing with the founder's grandson and that your classic Volkswagen Beetle will still be in great shape!
M & T Mfg has been and still is proud to offer all of these parts and many more for your Volkswagen for over 35 years!
VW Accelerator Cables, VW Antennas, VW Armrests, VW Ball Joints, VW Body Emblems & Parts, VW Brake Parts/Wheel Bearings/Master Cylinders, VW Brake Line Cables, VW Bus Camper & Pop-Top Parts, VW Bumpers, VW Body Molding, VW Car Covers, VW Carpet, VW Convertible Tops, Boots & Parts, VW Convertible Top Wood Bows, VW Consoles, VW Dash Parts & Dashboards, VW Door Handles & Parts, VW Door Panels, VW Door Window Seals, VW Electrical Parts, VW Engine Components, VW Engine Compartment Seals, VW Exhaust Systems, VW Exterior Parts, VW Exterior Rubber & Seals, VW Gas Tanks & Fuel Pumps, VW Fenders & Fender Beading, VW Floor Pans, VW Heater Components, VW Headlights & Parts, VW Hubcaps, VW Ignition Parts, VW Interior Parts, VW Literature, Manuals & VW Books, VW Mufflers, VW Nose Bras, VW Quarter Panels, VW Roof Racks, VW Running Boards, VW Seals, VW Seat Belts, VW Seat Covers, VW Sheet Metal, VW Shifters & Shift Knobs, VW Spark Plugs, VW Speedometers, VW Starters, VW Generators & Alternators, VW Steering/Suspension Parts, VW Steering Wheels, VW Sunroof & Ragtop Parts, VW Sun Visors, VW Switches, VW Tools, VW Taillights, VW Upholstery, VW Bug Me Instruction Videos, VW Wheels, Tires, VW Windshields & Glass, VW Wiper Parts & Accessories, VW Wiring Harnesses & VW Wood Top Bows.
M & T Mfg...Volkswagen Restoration Specialists Since 1975...Thousands of Parts For Volkswagen Beetle, Karmann Ghia, Volkswagen Bus & Vanagon, Volkswagen Thing, Volkswagen Rabbit & Cabriolet, & Volkswagen Type 3.
Classic Volkswagen Beetle parts for the following years: 1949, 1950, 1951, 1952, 1953, 1954, 1955, 1956, 1957, 1958, 1959, 1960, 1961, 1962, 1963, 1964, 1965, 1966, 1967, 1968, 1969, 1970, 1971, 1972, 1973, 1974, 1975, 1976, 1977, 1978 and 1979