Volkswagen Beetle Door Panels: Authentic Style, Convertible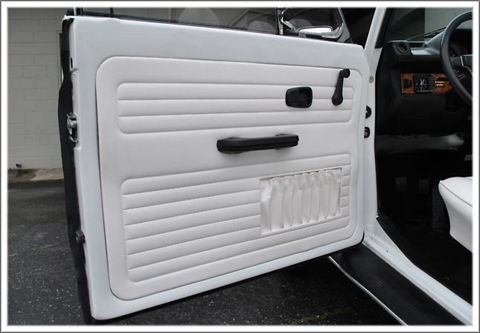 About Our Door Panels
Made by TMI: Expect durable masonite cores, correct pleating, original colors, and a reliable fit.
On this page: Order full sets of authentic-style door panels, fronts only, or rears only for Bugs 1956-1979.
At times TMI takes weeks to replenish our stock.
If you're in a hurry, please email support here: support@mtmfg.com.
We will send you wait times for your particular order.
Authentic Style Door Panel
Has original style (horizontal) heat impressions
Comes with or without pockets
Comes in Smooth Leatherette Vinyl: Click here for a swatch
1956-1979 Authentic Style Beetle Door Panels, Full Sets
1956-1979 Authentic Style Beetle Door Panels, Full Sets
1949-1955 Beetle Door Panels, Fronts Only
1949-1955 Beetle Door Panels, Fronts Only
1956-1964 Beetle Door Panels, Fronts Only
1956-1964 Beetle Door Panels, Fronts Only
1965-1966 Beetle Door Panels, Fronts Only
1965-1966 Beetle Door Panels, Fronts Only
1967-1979 Beetle Door Panels, Fronts Only
1967-1979 Beetle Door Panels, Fronts Only
Beetle Door Panels, Rear Only
Beetle Door Panels, Rear Only
Door Panel Installation Supplies
Door Panel Installation Supplies
Classic Volkswagen Beetle parts for the following years: 1949, 1950, 1951, 1952, 1953, 1954, 1955, 1956, 1957, 1958, 1959, 1960, 1961, 1962, 1963, 1964, 1965, 1966, 1967, 1968, 1969, 1970, 1971, 1972, 1973, 1974, 1975, 1976, 1977, 1978 and 1979