Volkswagen Beetle Headliners: Sedan & Sunroof: Easy Install and Original Types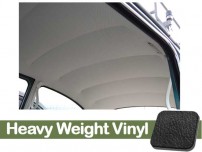 About Easy Install Beetle Headliners:
Made from heavy-weight vinyl, these easy install headliners make installation easier around the rear window section by eliminating unnecessary edges.
Less edges, less gluing
Sleeker look with complete factory coverage
Rear window, side post and quarter window pieces also included

Buyer Beware:

Many Beetle headliners are constructed with a China-made backing that's hard to install. Our material is imported original replacement material.
Easy Install Headliners Sedan
Easy Install Headliners Sedan
Easy Install Headliners, Sunroof
Easy Install Headliners, Sunroof
Original Multi-Piece Headliners, Sedan
Original Multi-Piece Headliners, Sedan
Original Multi-Piece Headliners, Sunroof
Original Multi-Piece Headliners, Sunroof
Instructions
Instructions
Headliner Bows
Headliner Bows
Classic Volkswagen Beetle parts for the following years: 1949, 1950, 1951, 1952, 1953, 1954, 1955, 1956, 1957, 1958, 1959, 1960, 1961, 1962, 1963, 1964, 1965, 1966, 1967, 1968, 1969, 1970, 1971, 1972, 1973, 1974, 1975, 1976, 1977, 1978 and 1979