Karmann Ghia Parts
Karmann Ghia Restoration Parts
Karmann Ghia Parts for More Than 40 Years:
We have been making and supplying VW Karmann Ghia restoration parts since 1974. The first Karmann Ghia part we made was the wood Karmann Ghia convertible wood front bow. We reproduced the part, then still being made by Volkswagen for their 1974 Karmann Ghia convertibles and made it for less money than the Karmann Ghia dealers were charging! After over forty years our shop still makes VW Karmann Ghia convertible wood top bows ! As we supplied top factories with these and other parts (such as rubber seals, and other Karmann Ghia--and other convertible parts) we expanded our efforts in becoming a complete Karmann Ghia parts distributor. Many years ago, before the internet, we offered Karmann Ghia parts via our print catalog. While the internet has enabled many more companies to enter into the car parts, and specifically the Karmann Ghia parts business, we operate from our offices and warehouse and strive to supply only high quality Karmann Ghia parts as well as old fashioned service to our Karmann Ghia parts shoppers and customers. More Karmann Ghia history: When the original Karmann Ghia convertible top seals were modified (the one in the Karmann Ghia convertible rear window) we took an original VW Ghia seal from a top and began reproducing it for the convertible top manufacturers making accurate Karmann Ghia convertible tops. Our concern was to get original quality Karmann Ghia parts to our customers, avoiding cheap reproductions that have come heavily into the Karmann Ghia market place. We have since sold thousands of Karmann Ghia tops, bows, seals and having branched into all Ghia parts we were soon offering sheet metal, electrical parts, upholstery and just about everything else for the Karmann Ghia restorer.
We Are a Real "Bricks and Mortar" Company
In this day and age, anyone can buy and sell parts, on line, or ebay. We are proud that we built a service intensive organization and are a real company, in a family owned building with a full staff of dedicated people. We have forged relationships with just about every manufacturer and importer of Karmann Ghia parts. Our main building is a restored ice house in southern Rhode Island. We have added separate warehouses, efficiently linked via our data base of parts for air cooled and water cooled Volkswagen sedans and Volkswagen convertibles. And we still manufacture those Karmann Ghia convertible wood top bows !
VW Karmann Ghia Convertibles and Sedans:
One of the beauties of the Karmann Ghia, and all air cooled Volkswagens, is that the parts for restoration, maintenance and repair have not disappeared! The Karmann Ghia is a classic and good quality parts are generally available for all years of the Karmann Ghia. Karmann Ghia parts, and other air cooled Volkswagen parts are available, often originating in several different factories. And there is abundant literature enabling the owner to maintain, and even fullu restore his or her Karmann Ghia. For example, one of our factories, TMI Products, has been manufacturing accurate interior items, meticulously reproducing the original square and basket weave Karmann Ghia seat fabrics, leather grained fabrics and all original Ghia colors.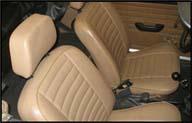 Ordering VW Parts On Line:
Karmann Ghia restorers can be confident of a high rate of "in stock" availability of parts for their Karmann Ghias. Our service to Karmann Ghia parts shoppers has been our hallmark since we started operating.
The Checkout Message:
Your on line order entry will end with an opportunity to leave us a message. We read and respond to these quickly and thoroughly. We are not here to "push them parts." We are, ever since we started in 1974, here to provide quality and service to the Ghia restorer. We answer your messages.
Support and Information:
If you have any questions about your Karmann Ghia or about parts for it, please address then to our support email address (
support@mtmfg.com
) where it will be directed to the most knowledgeable staff member to attend to it.
We are here too with four knowledgable Karmann Ghia staff to answer questions. While email is more efficient, allowing us to respond without those annoying phone waits, our Karmann Ghia folks are available 9 to 5 Eastern time mon-friday. Emails to our support mailbox are answered every few hours. M & T Mfg has been and still is proud to offer all of these parts and many more for your Volkswagen Karmann Ghia for over 40 years!
M & T Mfg...Volkswagen Restoration Specialists Since 1975...Thousands of Parts For Volkswagen Beetle, Karmann Ghia, Volkswagen Bus & Vanagon, Volkswagen Thing, Volkswagen Rabbit & Cabriolet, & Volkswagen Type 3.
Karman Ghia parts for the following years: 1956, 1957, 1958, 1959, 1960, 1961, 1962, 1963, 1964, 1965, 1966, 1967, 1968, 1969, 1970, 1971, 1972, 1973 and 1974