Volkswagen Beetle Seat Covers: Convertible, Full Sets (Front & Rear)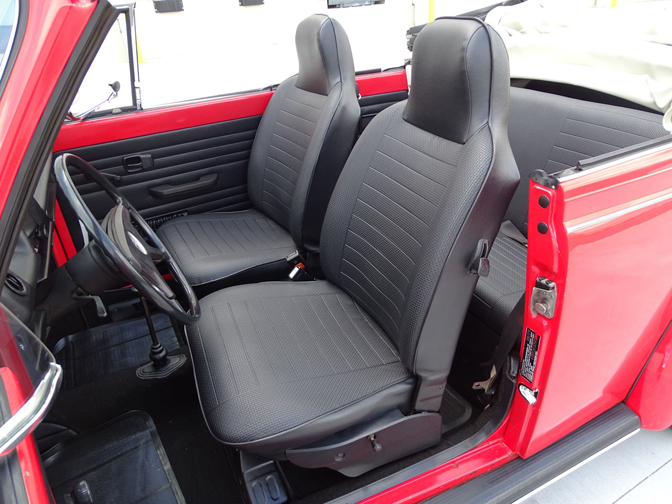 Shown is a 1975 interior with basketweave vinyl seats.
While basketweave is the most economical (and durable) fabric
(due to the volume of production)
many other choices are available for your Beetle seat covers.
Seat covers are made by TMI, the VW Upholstery leading supplier.
Most seat covers are custom made and require an average of 12-14 weeks to ship.
Please be certain of fabric and color choice.
We cannot process returns based on color dissatisfaction.
We are happy to send swatches (support mailbox bottom of page.)
Installation Supplies
Installation Supplies
General
General
Instructions
Instructions
Front & Rear Seat Upholstery, Original Style, Convertible
Front & Rear Seat Upholstery, Original Style, Convertible
Seat Upholstery Accessories
Seat Upholstery Accessories
Classic Volkswagen Beetle parts for the following years: 1949, 1950, 1951, 1952, 1953, 1954, 1955, 1956, 1957, 1958, 1959, 1960, 1961, 1962, 1963, 1964, 1965, 1966, 1967, 1968, 1969, 1970, 1971, 1972, 1973, 1974, 1975, 1976, 1977, 1978 and 1979