Volkswagen Thing Seat Covers: Front and Rear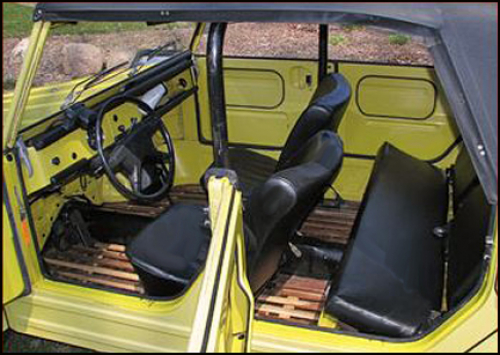 VW Thing seat covers are made by TMI, the leading supplier of
Volkswagen replacement seat covers.

The original seat cover fabric in the VW Thing
was smooth vinyl, usually black.
We offer these Thing seat covers in other colors as well.

Most VW Thing seat covers are custom made and
will require an average of six weeks to ship.
Installation Supplies
Installation Supplies
Instructions
Instructions
Molded Foam Seats (PC and Kits)
Molded Foam Seats (PC and Kits)
Seat Upholstery Accessories
Seat Upholstery Accessories
Adhesive and Heat Shields
Adhesive and Heat Shields
1973-74 VW THING - Original Style Seat Upholstery
1973-74 VW THING - Original Style Seat Upholstery
Volkswagen Thing parts for the following years: 1973 & 1974