Volkswagen Beetle Seat Covers: Two Fabrics. Convertible (Full Sets)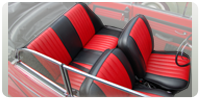 About Our VW Beetle Seat Covers
We offer TMI seat upholstery for the VW Beetle. TMI upholstery is the best VW upholstery on the market.
TMI makes Beetle seat upholstery in authentic colors and fabrics, so these fabrics are exact matches to original VW upholstery.
TMI Vinyl is stronger than other brands; it last longer, cleans easily, and retains its original shape better than other vinyls.
Seat covers take a minimum of 12-14 weeks to ship.
On This Page:
You'll find Beetle seat covers and 12-inch inserts in Smooth Vinyl, Basket Weave Vinyl, Square Weave Vinyl, and Encore and Regal Velours.
Pick two colors -- one for the insert, and one for the surrounding material -- to complete your order.
Seat Covers
Seat Covers
Installation Supplies
Installation Supplies
Instructions
Instructions
Seat Upholstery Accessories
Seat Upholstery Accessories
Classic Volkswagen Beetle parts for the following years: 1949, 1950, 1951, 1952, 1953, 1954, 1955, 1956, 1957, 1958, 1959, 1960, 1961, 1962, 1963, 1964, 1965, 1966, 1967, 1968, 1969, 1970, 1971, 1972, 1973, 1974, 1975, 1976, 1977, 1978 and 1979