Volkswagen Rabbit/Cabriolet Seat Covers: Rabbit Truck, 1980-84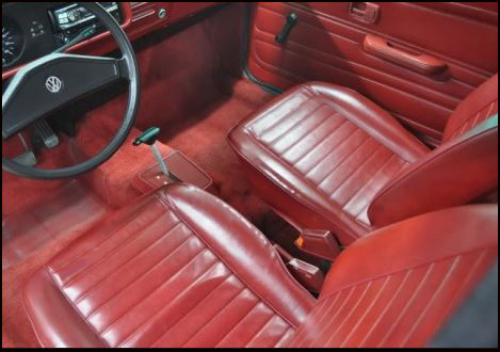 The picture is of the interior of a VW Rabbit truck.

The seat covers are red smooth vinyl. Seat covers can be made in one or two fabrics: the trim is the solid (unpleated) vinyl and the main fabric (inserts) are pleated in the picture.

There are thousands of different VW seat covers (year, color(s) etc.) We must have these seat covers custom made. Shipment times average 8 weeks.

Please be certain of your color choice(s). We provide the best customer warranty service but returns are only honored if there are quality issues. We will be happy to send you fabric swatches as requested.
Front Seats
Front Seats
Installation Supplies
Installation Supplies
Instructions
Instructions
Seat Upholstery Accessories
Seat Upholstery Accessories
Volkswagen Rabbit/Cabriolet parts for the following years: 1980, 1981, 1982, 1983, 1984, 1985, 1986, 1987, 1988, 1989, 1990, 1991, 1992, 1993 and 1994