Volkswagen Rabbit/Cabriolet Convertible Top Boots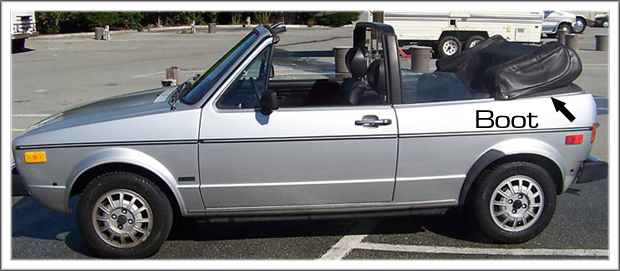 For 1979-94 Rabbits and Cabriolets and 1995-2000 VW Cabrios
You will see that our VW Rabbit, VW Cabriolet
and our VW Cabrio boots are available
in three vinyl choices. All boot fabrics have the same
physical properties: a slight 'give' or flexibility
which make them all perfect boot vinyls.
The three boot vinyls differ, subtly, in their grains (textures.)
The Ketan and Oxen boot vinyls have broader grain pattern
and the smooth boot vinyl has a more subtle (smoother) grain.
You can "view color" to look at the
boot vinyl colors and also the boot grain (textures.)

Please note: These convertible top boots will take FOUR to FIVE weeks to manufacture

Volkswagen Rabbit/Cabriolet parts for the following years: 1980, 1981, 1982, 1983, 1984, 1985, 1986, 1987, 1988, 1989, 1990, 1991, 1992, 1993 and 1994