Volkswagen Bus, Vanagon, Eurovan Door Panels & Kick Panels: 1968-79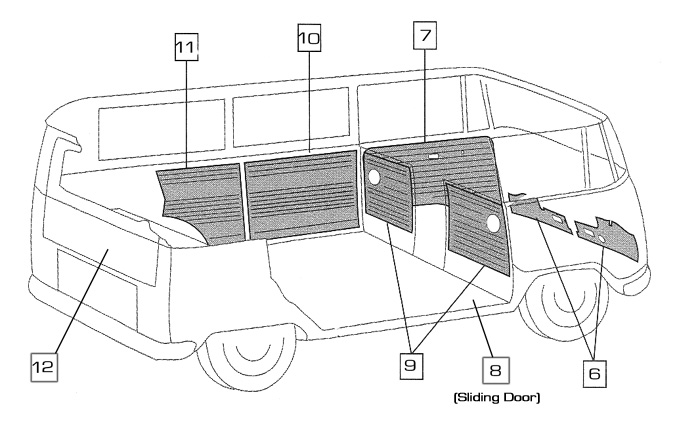 About Our Door Panels
Made by TMI: Expect durable masonite cores, correct pleating, original colors, and a reliable fit.
On this page: Order full sets of door panels, sliding-door panels, rear hatch panels, rear quarter panels, left center panels, front kick panels only for 1968-1979 VW Bus.
Door panels take a minimum of four to five weeks to ship. 
Our Bus Door Panels
Has original style (horizontal) heat impressions
Comes in origninal vinyl colors.
Easy to clean, vinyl is the preference of most Bus owners. 
Comes in Oxen Vinyl, OEM Classic Vinyl or Smooth Leatherette Vinyl: Click here for a swatch
Installation Supplies
Installation Supplies
Door Panels, Authentic Style, Bus, Single Cab & Crew Cab
Door Panels, Authentic Style, Bus, Single Cab & Crew Cab
Classic Volkswagen Bus/Vanagon parts for the following years: 1950, 1951, 1952, 1953, 1954, 1955, 1956, 1957, 1958, 1959, 1960, 1961, 1962, 1963, 1964, 1965, 1966, 1967, 1968, 1969, 1970, 1971, 1972, 1973, 1974, 1975, 1976, 1977, 1978, 1979, 1980, 1981, 1982, 1983, 1984, 1985, 1986, 1987, 1988, 1989 and 1990