Volkswagen Bus, Vanagon, Eurovan SEAT COVERS; 1968-73 FRONT BUCKETS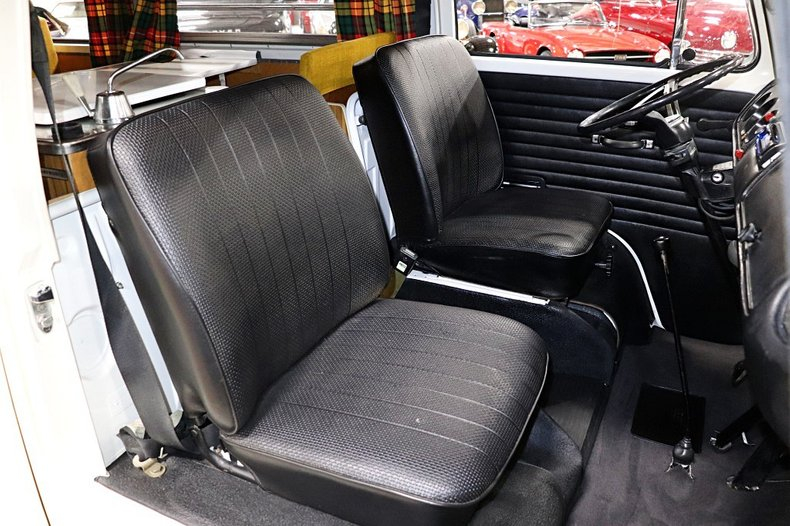 Pictured are Bus front bucket seats (1973) in black basketweave vinyl.
Many other fabrics and combinations are available.
(Basketweave is the least expensive because of the volume of production of this fabric.)
Please inquire about special combinations. There are too many
possibilities to list here. (Use the support email at bottom of this page.)

Please be certain of fabric choice and color as we cannot process
returns based on color dissatisfaction.

You may request swatches.
All seat covers are made by TMI in original fit and configuration.
Seat covers are custom made
and require approximately eight weeks to ship.
Basketweave Vinyl Seat Covers
Basketweave Vinyl Seat Covers
Leatherette, Smooth and Other Vinyl Seat Covers
Leatherette, Smooth and Other Vinyl Seat Covers
Installation Supplies
Installation Supplies
Instructions
Instructions
Classic Volkswagen Bus/Vanagon parts for the following years: 1950, 1951, 1952, 1953, 1954, 1955, 1956, 1957, 1958, 1959, 1960, 1961, 1962, 1963, 1964, 1965, 1966, 1967, 1968, 1969, 1970, 1971, 1972, 1973, 1974, 1975, 1976, 1977, 1978, 1979, 1980, 1981, 1982, 1983, 1984, 1985, 1986, 1987, 1988, 1989 and 1990