Volkswagen Rabbit/Cabriolet 1985-1993 Seat Covers: Sedans Only: Golf and GTI, Rabbit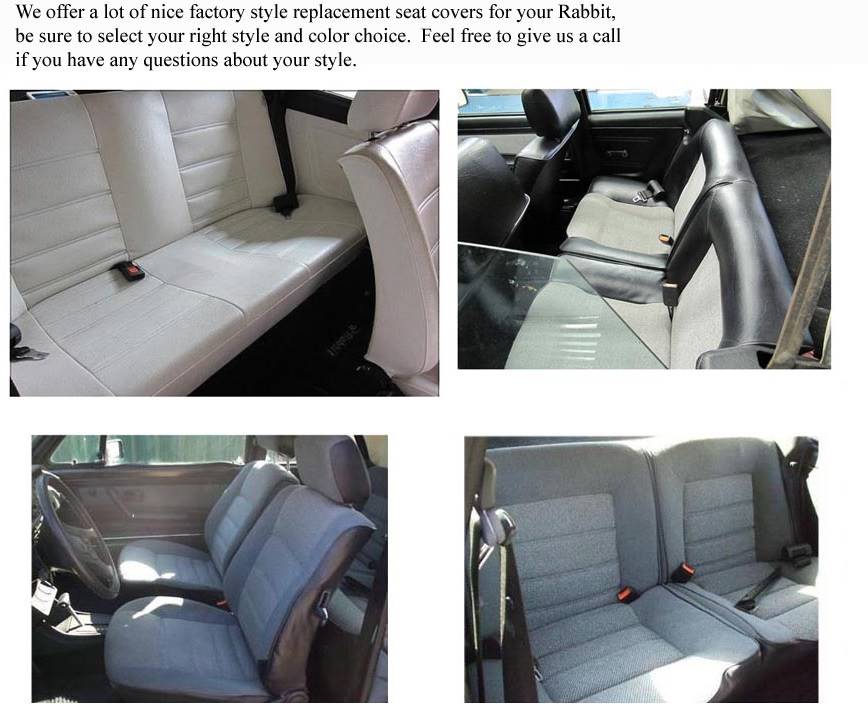 These are not slip covers. They are fitted covers designed to be applied as original, to the padded seat core. The seats are removed from the car, existing covers removed and these applied to restore seats to factory quality.
We do not carry the cheaper slip covers. These Rabbit seat covers take a minimum of five to eight weeks to ship.
The original striped German seat fabric is no longer available. These vinyl and velour fabrics are premium American made substitutes.
Fabric samples are available:
Please send us a self addressed envelope with your requests to the address at the very bottom of this page; or email 'support'
Front Seats
Front Seats
Rear Seats
Rear Seats
Headrest Covers
Headrest Covers
Installation Supplies
Installation Supplies
Instructions
Instructions
Seat Upholstery Accessories
Seat Upholstery Accessories
Volkswagen Rabbit/Cabriolet parts for the following years: 1980, 1981, 1982, 1983, 1984, 1985, 1986, 1987, 1988, 1989, 1990, 1991, 1992, 1993 and 1994