Karmann Ghia Seat Covers: Convertible & Sedan, Front Only
Most seat cover sales are basket weave, the most durable of fabrics,
and the least expensive because of production volume !

Other fabric choices are also available and listed below.

All seat covers are made by TMI, the leading supplier
of accurate, authentic replacement seat covers.



Most seat covers are custom made and require about six weeks to ship.
We are happy to send swatches upon request (see support email at bottom of page.)
We cannot accept returns based on color dissatisfaction so please be certain of color choices.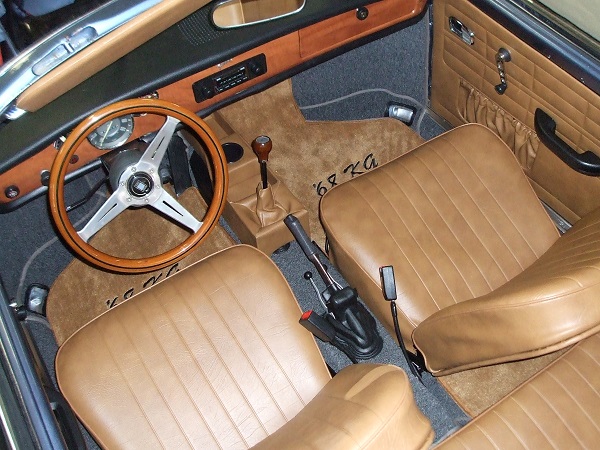 About Our Karmann Ghia Seat Covers
Made by TMI: Expect correct pleating, solid piping, and a reliable fit. These seat covers are made of Enduratex vinyl, the thickest and most durable vinyl available.
Our Colors: TMI offers exact and authentic colors, which makes matching OEM or TMI colors easy and accurate.
On this page: Order original-style Ghia replacement seat covers and headrest covers, fronts only, 1956-1974 Ghia Convertibles.
Swatches sent upon request
Please be certain of color choices.
Karmann Ghia Original Front Seat Covers
Has original style pleats
Matching head rest covers are also available on this page (sold separately)
Comes in Smooth Leatherette Vinyl, Basketweave, Tweed Cloth, or Velour or Regal Velour: Click here for a swatch
Basketweave Vinyl Seat Covers
Basketweave Vinyl Seat Covers
Tweed Cloth or Velour Seat Covers
Tweed Cloth or Velour Seat Covers
Leatherette, Smooth and Other Vinyl Seat Covers
Leatherette, Smooth and Other Vinyl Seat Covers
Headrest Covers
Headrest Covers
Installation Supplies
Installation Supplies
Seat Cushions (Formed Padding)
Seat Cushions (Formed Padding)
Instructions
Instructions
Molded Foam Seats (PC and Kits)
Molded Foam Seats (PC and Kits)
Seat Upholstery Accessories
Seat Upholstery Accessories
Original Seat Upholstery - Ghia Sedan/Convertible
Original Seat Upholstery - Ghia Sedan/Convertible
Karman Ghia parts for the following years: 1956, 1957, 1958, 1959, 1960, 1961, 1962, 1963, 1964, 1965, 1966, 1967, 1968, 1969, 1970, 1971, 1972, 1973 and 1974