Volkswagen Beetle Convertible Top Package Specials
On this page are selected VW Beetle and Super Beetle convertible top restoration packages.
The replacement of a Beetle or Super Beetle convertible top
usually requires some of the following:
wood top bows, padding under the top, hold down cables,
the rear window frame or parts for it, etc.
The convertible toppackages shown are selected
as sample convertible top restoration packages.
We will be happy to configure a custom quote according
to your particular needs.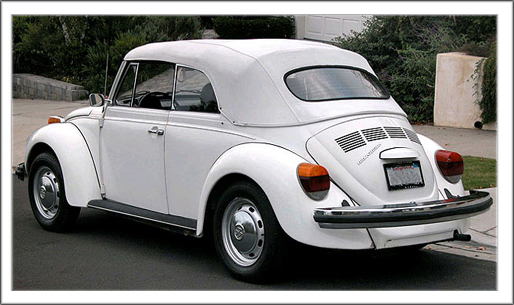 Volkswagen Beetle Top Key Features:
Quality: Made to Volkswagen Beetle specs, 100% fit guarantee.
Original Configuration: One piece convertible top accepting original or replacement glass window and frame.
Original Factory Material: Haartz Pinpoint Vinyl
Original Window: Use with your original window or check our rear window parts page for replacement glass, frame, etc.
Original Colors: Black
Alternate Materials: Haartz stayfast canvas
Package Specials: Cost savings for all of your installation needs with package specials., We can provide the detailed convertible top installation manual, new top hold down cables, pads/webbing, wood bows and seals, etc.

Customize Your Top Package: As a Beetle or Super Beetle convertible top restorer, you're faced with a wide variety of parts that you may or may not need to complete your top restoration. Let us know what you're looking for and we'll customize a convertible top package special at a package price. Call our sales manager Kevin Hartman Monday thru Friday at401-789-0472 ext 106. Or, order a package listed on this page.
OR contact us at our support mailbox: support@mtmfg.com and a knowledgable person will help define a convertible top package for your Beetle or Super Beetle convertible.

Shop with confidence:

8 year manufacturer warranty.
You may send a list of your
particular needs for your convertible top
restoration by email: Send to support@mtmfg.com
We will respond with
a custom quotation for your items package.
---
General
Cleaning & Protectant
Instructions
Classic Volkswagen Beetle parts for the following years: 1949, 1950, 1951, 1952, 1953, 1954, 1955, 1956, 1957, 1958, 1959, 1960, 1961, 1962, 1963, 1964, 1965, 1966, 1967, 1968, 1969, 1970, 1971, 1972, 1973, 1974, 1975, 1976, 1977, 1978 and 1979