Karmann Ghia Convertible Wood Top Bows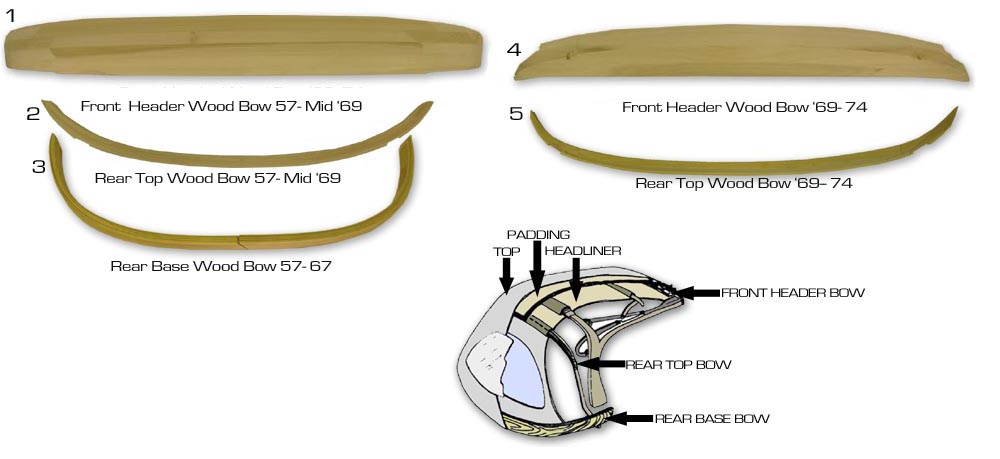 Shop


« Back to Karmann Ghia Catalog

Have a question?
Talk to us!
---
Instructions
General
Important Information
We have been manufacturing convertible wood top bows in our shop since 1974. You will be purchasing these wood products directly from the manufacturer. We will work with you on any installation issues, such as applying your wood to non-original imported mounting plates that you have to install to your framework.
Wood top bows are tacking forms which are embedded in the top frame. In the early Ghias there was a wood bow below the rear plastic window which is attached on the shelf of the car. This was eliminated with the introduction of the rear attachment cable in 1968.
We recommend that you not use cheap plastic top bows, also called "wood replacement bows." They have a tendency to chip and even crack upon being stapled; these "wood replacement bows" do not hold staples well. They are very inferior to the real wood bows.
The full restoration of a Karmann Ghia convertible top (the top itself) begins with the Ghia convertible top frame. Once the top frame is sanded
and lubricated to restore it to proper functioning, the convertible top frame parts must be addressed. The wood top bows will provide, by far, the best staple holding and retention, much superior to the varathane used in Ghia wood replacement bows. In order to keep the top bows functional in top after top, you can treat the wood as you would any exterior wooden product, either with penetrating oils or with exterior paint.
Restoration Tip
The sand blasting and powder coating of a top frame, followed by the installation of
real wood top bows is the hallmark of a superior restoration.
Paint your bows with exterior oil based paint and the top bows will last
as long as the outside trim on a house.
The wood front bows on early Ghias are recessed like the original in order to allow the embedding of the complex latch mechanism into the wood bow. We had taken an original wood top bow (from a Karmann Ghia many years ago and preserved)and duplicated this wood bow recess. If you have a plastic rear window Karmann Ghia convertible (early 1969 and prior Ghias) then our wood top front bow should receive your mechanism nicely.)
In the later Karmann Ghia convertibles there is a pair of wood bow hold down plates, one in each front corner. Reproduction wood front bow holder plates are now available. They seem to have large tolerances (angle of shaft varies, etc.) but will work well if you align the wood bow according to our directions. If the wood front bow does not just "drop into place" then the situation is easily rectifiable without sending the front bow plates back. We do drill an oversized hole at each side of the wood front bow to allow adjustment and aligning of the bow, especially when using imported front bow hold down plates.
The rear base wood bow in early Ghia convertibles is made much more sturdily (infinitely more sturdily) than the plastic wood replacement bow for the rear base of early Ghias. We laminate upholstery grade poplar using high pressure and modern marine adhesive and then shape the wood bow to fit our chassis section that we use to finish fit these wood bows.
Karman Ghia parts for the following years: 1956, 1957, 1958, 1959, 1960, 1961, 1962, 1963, 1964, 1965, 1966, 1967, 1968, 1969, 1970, 1971, 1972, 1973 and 1974