Convertible Tops and Packages: Late-2001 and 2002 Cabrio & Golf IV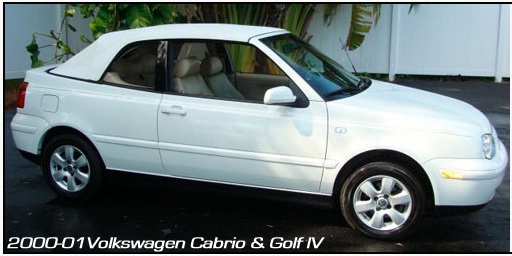 Volkswagen Cabrio & Golf Key Features:
Quality: Made to Volkswagen specs, 100% fit guarantee.
Original Configuration: One piece top with heat-sealed glass window. No deck seams, no binding. Brackets are mounted on glass to attach to OE control arms that connect to frame. (Check your rear window before ordering. Use 1995-2000 Cabrio page if your top has a rubber seal around the window.)
Original Factory Material: Sonnendeck Canvas
Original Window: Glass window with defroster.
Original Colors: Black, Titan Gray, Dark Blue and English Green
Alternate Materials: Cabrio vinyl

Shop with confidence:

5 year manufacturer warranty.
General
General
Installation Supplies
Installation Supplies
Volkswagen Rabbit/Cabriolet parts for the following years: 1980, 1981, 1982, 1983, 1984, 1985, 1986, 1987, 1988, 1989, 1990, 1991, 1992, 1993 and 1994