Volkswagen Beetle Convertible Tops
Please note that a top is very rarely ordered alone
as its replacement almost always involves new seals and hold down cables
and often wood bows.

We therefore urge you to explore the "convertible top packages" page
or
to email us at the support mailbox for custom package quotes
and help with your particular top restoration.

Volkswagen Beetle Key Features:
Quality: Made to Volkswagen specs, 100% fit guarantee.
Original Configuration: One piece top, with a glass window.
Original Factory Material: Haartz Pinpoint Vinyl
Original Window: Use with your original window
Original Colors: Black
Alternate Materials: Haartz stayfast canvas
Package Specials: Cost savings for all of your installation needs with package specials, this can include the detailed manual, new cables, pads/webbing, tack strips and glue kit.

Shop with confidence:

5 year manufacturer warranty.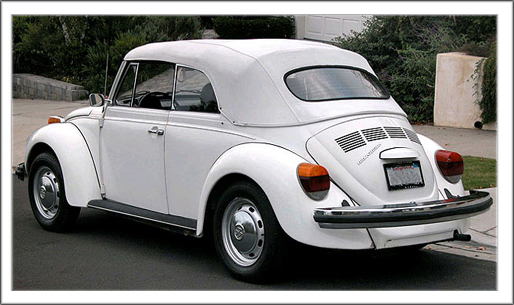 Convertible Tops
Convertible Tops
Installation Supplies
Installation Supplies
Cleaning & Protectant
Cleaning & Protectant
Instructions
Instructions
Classic Volkswagen Beetle parts for the following years: 1949, 1950, 1951, 1952, 1953, 1954, 1955, 1956, 1957, 1958, 1959, 1960, 1961, 1962, 1963, 1964, 1965, 1966, 1967, 1968, 1969, 1970, 1971, 1972, 1973, 1974, 1975, 1976, 1977, 1978 and 1979