Volkswagen Beetle Door Panels: Two-Tone Horizontal, Convertible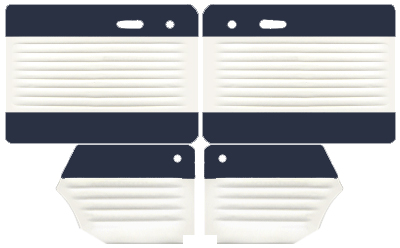 About Our Door Panels
Made by TMI: Expect durable masonite cores, correct pleating, original colors, and a reliable fit.
On this page: Order full sets of Two-Tone Horizontal door panels for Bug Convertibles 1950-1979.
Two-Tone Horizonal Door Panels for 1950-1979 Bug Convertible
Designed to match two-tone or 12" insert seat upholstery
Bug Convertible comes with or without map pockets on both front panels
Choose one color for the top/bottom (also called the surround) and one for the insert
Comes in Smooth Leatherette Vinyl, Velour, Regal Velour, or Tweed: Click here for a swatch
Have a question?
Talk to us!
---
Important Information
Add your color selections to the checkout message box.
Classic Volkswagen Beetle parts for the following years: 1949, 1950, 1951, 1952, 1953, 1954, 1955, 1956, 1957, 1958, 1959, 1960, 1961, 1962, 1963, 1964, 1965, 1966, 1967, 1968, 1969, 1970, 1971, 1972, 1973, 1974, 1975, 1976, 1977, 1978 and 1979