Volkswagen Beetle Convertible Top Package Specials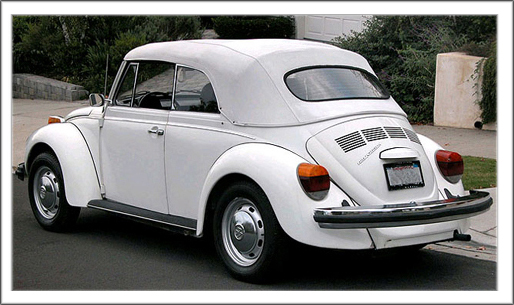 Volkswagen Beetle Key Features:
Quality: Made to Volkswagen specs, 100% fit guarantee.
Original Configuration: One piece top, with a glass window.
Original Factory Material: Haartz Pinpoint Vinyl
Original Window: Use with your original window
Original Colors: Black
Alternate Materials: Haartz stayfast canvas
Package Specials: Cost savings for all of your installation needs with package specials, this can include the detailed manual, new cables, pads/webbing, tack strips and glue kit.

Customize Your Package:

As a Beetle convertible top restorer, you're faced with a wide variety of parts that you may or may not need to complete your top restoration. Let us know what you're looking for and we'll be happy to customize a package special for you at discounted price. Call our sales manager Kevin Hartman Monday thru Friday at 401-789-0472. Or, order a package listed on this page. 

Shop with confidence:

5 year manufacturer warranty.
Have a question?
Talk to us!
---
Important Information
Our "TOPPAK" consists of the following:
Premium quality VW Beetle top,
All of the required convertible top attachment cables,
The convertible top padding set,
Original fabric convertible headliner,
The set of six convertible top frame roof-rail rubber seals,
The convertible top to windshield seal
The 24 page Volkwwagen convertible top and headliner installation booklet.
This convertible top restoration package contains all of the parts (besides the wood bows) that should be "on hand" for a complete top restoration (until the end of the job when the rear window is installed.)
Your Beetle convertible wood top bows should be evaluated after the old convertible top is removed from the top frame.
Other parts that may be needed such as rubber wedges, hinge covers, bow cover plates, etc. can be obtained after the TOPPAK convertible package parts are installed.
We recommend the "TOPPAK" for any full Beetle convertible top restoration.
However, if it is known that the headliner and padding will be re-used, from the existing top, then just the convertible top and the top hold down cables may be purchased.
We would be happy to configure a Beetle convertible top package to your own needs. If the convertible top packages on this page do not suit your purposes, please either fax or email us a list of the parts you need for your own convertible top restoration. This can include the convertible wood top bows, etc. We will reply with a quotation for your own Beetle convertible top restoration package.
Restoration Tip
The Beetle rear window frame is almost always distorted from age, vibration, weather, etc. It is difficult and sometimes impossible to re-install the rear window glass in such cases. So the last stage of the top restoration becomes the most difficult and anguish filled step!!
Please consider using a new integrated steel and wood rear window frame that will tack right into your new top.
Check out the advice on this at 'convertible rear window parts.'
Classic Volkswagen Beetle parts for the following years: 1949, 1950, 1951, 1952, 1953, 1954, 1955, 1956, 1957, 1958, 1959, 1960, 1961, 1962, 1963, 1964, 1965, 1966, 1967, 1968, 1969, 1970, 1971, 1972, 1973, 1974, 1975, 1976, 1977, 1978 and 1979