Karmann Ghia Seat Covers: Sedan, Full Sets (Front & Rear)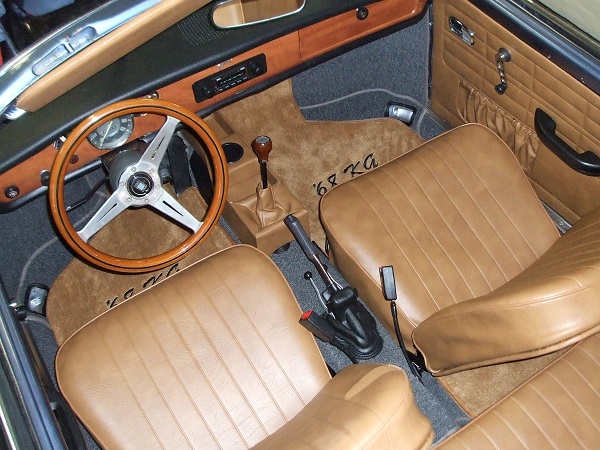 About Our Karmann Ghia Seat Covers
Made by TMI: Expect correct pleating, solid piping, and a reliable fit. These seat covers are made of Enduratex vinyl, the thickest and most durable vinyl available.
Our Colors: TMI offers exact and authentic colors, which makes matching OEM or TMI colors easy and accurate.
On this page: Order original-style Ghia replacement seat covers and headrest covers, full sets only, 1956-1974 Ghia Sedans.
Karmann Ghia Original Front Seat Covers
Has original style pleats
Matching head rest covers are also available on this page (sold separately)
Comes in Smooth Leatherette Vinyl, Basketweave, Tweed Cloth, or Velour or Regal Velour: Click here for a swatch
Have a question?
Talk to us!
---
Important Information
Many restorers choose the original woven seat covers. These are the basket weave in top two rows or the square weave (third row). Square weave is not original to Ghia. They were used in the 77-79 Beetles, but some Ghia owners like the colors offered in square weave.
You can select a color and fabric using the picture. The woven fabric colors are the same colors as are available in the smooth (unwoven) leather grain seats. If you would like to have an unwoven (smooth leatherette) seat, just jot down your color choice. You can specify your color choice in the checkout message box.
Many restorers are opting for the "Eleganza" seat covers. These have smooth vinyl borders and tweed cloth inserts. Inserts can be "full" like in the picture of the seat with the charcoal insert; or the inserts can be "small" like in the pleated insert in the tan interior shown in the large seat.
If you want Eleganza seats you can select any pair of colors you wish. During checkout specify the fabric or fabrics in the checkout message section.
All covers are sold as a complete set: fronts plus rear.
We are showing an illustration of original seat configurations because many cars have been altered. Please verify your seat style with the pictured style for your year.
All seat covers are pleated and configured as you specify. All seats are custom made and require about three weeks to ship.
Seat cover sets and front seats for 1969 and later ghias with separate head rests do not include the head rests. Head rest covers are a separate item and should be ordered separately from the seat covers.
Karman Ghia parts for the following years: 1956, 1957, 1958, 1959, 1960, 1961, 1962, 1963, 1964, 1965, 1966, 1967, 1968, 1969, 1970, 1971, 1972, 1973 and 1974